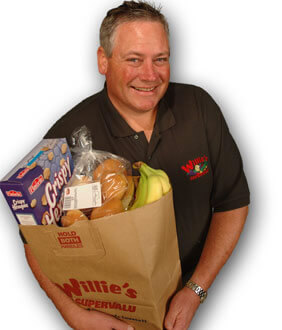 Home of the People Lovers!
We love our customers and we're proud to provide you with a wide variety of products, from fresh meat and produce to our delicious bakery and deli. You'll find the best customer service around. Whatever you need, just ask, and we'll work to get it for you.
Whether you are in need of cakes, meat/cheese or fruit/veggie party trays, fruit baskets or meat for your summer barbeque, let us know what you have in mind and we will take care of you.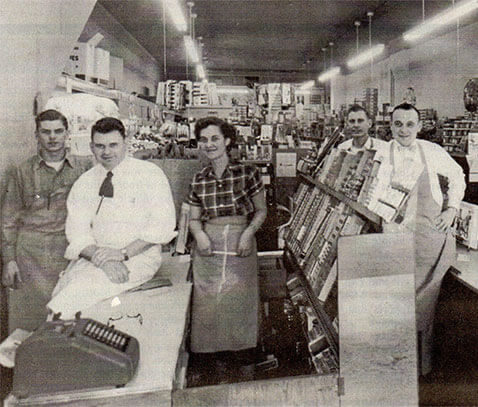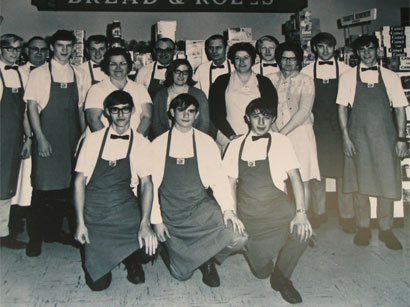 Serving You Since 1951
Willie's Supervalu has been your hometown grocery store, caring and supporting the Stevens County and the Morris Area since 1951. We pride ourselves on exceptional customer service every day, always trying to meet your needs.
History of Willie's
Back in 1947 when the late Wilmer, 'Willie' Martin (Top picture, far right) moved to Morris he began working at the Red Owl grocery store. He continued to work there for a number of years until he decided to go into business for himself in 1951. Willie continued to do business even after Red Owl left town in 1955. He then moved the store into the old International Harvester building in 1958. For the next 40 years, Willie's Red Owl would thrive in that location. After the store was added onto two times by Willie, he decided to hand over the reigns of the business to his son Paul. Business kept thriving and they were forced to renovate yet again, but this last renovation would prevent them from being able to expand any more due to parking limitations.
With the need for more floor space inside the store and more parking space outside, Paul decided it was time to build a new store and in 1999 that new store was opened. The new grocery store nearly doubled the size of the old store and added an abundance of new ways to satisfy customers. Among the features the current store has is an expanded produce section, full service bakery, deli, and meat counters, as well as larger dairy and frozen food departments. The new store features more ready to eat food than ever before to cater to people that are on the go.
Since moving to the new location, Willie's still offers the same great customer service they have always offered. If you are on the hunt for a rare item you need for a recipe, the staff at Willie's will be happy to work hard to get the item in for you if possible.
During the summer of 2018, Willie's underwent a remodel that included updating many coolers, freezers, and lighting to become much more energy efficient. It is estimated that Willie's cut back around 40% off the energy usage. The centerpiece for the remodel was the addition of Morris' First Full-Service Caribou Coffee location! Caribou Coffee of course sells awesome coffee and espresso, but many cold beverages and breakfast items to enjoy while you shop.
The most important thing at Willie's is the customers, that is the way it always has been, and will continue to be!
>> Contact Us
>> Find Us